start > wandelsite > Lapin lääni
Lapin lääni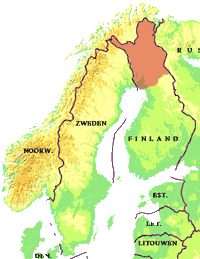 Fins Lapland is een heerlijk wandelgebied voor wie de rust, stilte en de beschutting van de Taiga zoekt. Anders dan in Zweden en Noorwegen ligt Fins Lapland vrijwel geheel onder de boomgrens. Slechts kleine gebieden, de Tunturi, steken boven de boomgrens uit. Dit geeft Fins Lapland een geheel eigen karakter.
Fins Lapland kent vijf nationale parken waarvan er twee zeer uitgestrekt zijn: Urho Kekkonen aan de grens met Rusland en Lemmenjoki dat aan Noorwegen grenst.
De parken zijn vrij toegankelijk en uitstekend geschikt voor (lange) wandeltochten. Buiten de kerngebieden mag je in de zogenoemde wildernisgebieden vrij wandelen en kamperen, daarbinnen zijn bepaalde kampeerplaatsen ingericht die op de kaarten staan ingetekend.
De wildernisgebieden bieden uitstekend mogelijkheden om langere trektochten te maken. Soms lopen er gemarkeerde wandelpaden doorheen maar lang niet altijd is dat het geval. Goede ervaring met het werken met kaart en kompas is daarom vereist. Er zijn vaak wel ongemarkeerde paden en her en der liggen wildernishutten waar je kunt overnachten. Het Finse staatsbosbeheer zegt er het volgende over:
"The wilderness is an ideal environment for the experienced trekker who wants to enjoy the peace and solitude of the wilderness and choose his or her own trails without the danger of bumbing into other hikers. When doing so,one must have such orienteering and hiking skills that one is able to manage even in the most difficult weather conditions. One must also be properly equipped with a sleeping bag and a tent. There are only a few wilderness huts or marked trails in some of the wilderness areas. When you head for the Lappish wilderness, you should bear in mind that in case of an accident it may take a long time before you get help."
Hieronder vind je een overzicht met de wildernisgebieden (geel op het kaartje, bruingekleurd zijn de natuurreservaten en de nationale parken zijn lichtgroen)
De natuurreservaten zijn veelal niet toegankelijk voor publiek. Van de 8 natuurreservaten in Fins Lapland zijn er drie beperkt open voor publiek:
Door deze reservaten loopt een wandelpad. Je mag niet van dit pad afwijken. het Finse staatsbosbeheer zegt er het volgende over:
"Strict nature reserves have been established for scientific reasons. They primarily serve the needs of nature conservation and research as well as, within certain limits, instruction. For studying changes in nature, they also act as control areas. The regulations applying to strict nature reserves are stricter than those in the national parks. It is generally not possible to move around in them without a written permit. Some strict nature reserves have a nature trail open to the public. Permission to visit places off the hiking trails is given only for scientific purposes."
Zie verder ook de informatie van het staatsbosbeheer:
Twee grote wandelpaden in Fins Lapland zijn de E6 en de E10 die ieder weer bestaan uit lokale paden. De nationale parken en wildernisgebieden kennen vaak ook uitgezette routes (te vinden op de topografische kaarten)
UKK-reitti (E6 en E10)
Inari trail
Karhunkierros trail
Eigen wandelroutes Lapin lääni
De beschrijvingen op deze pagina zijn geleend van het Finse Staatsbosbeheer (Metsähallitus). Op hun site vind je aanvullende informatie.
Naast de parken zijn er uitgestrekte wildernisgebieden. Zie de introductie voor een overzicht.
Lemmenjoki
Oulanka
Pallas-Ounastunturi
Pyhä-Luosto
Urho Kekkonen
Algemeen: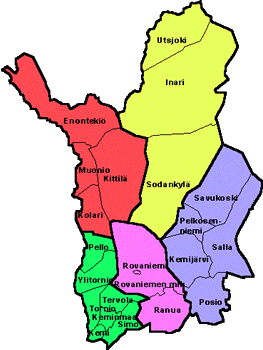 Gemeentes:
Parken en wildernisgebieden:
Wandelen