Lappland
Zweeds Lapland (Lappland, Lapponia) wordt wel een de laatste wildernis van Europa genoemd. Feitelijk is het een cultuurlandschap, al duizenden jaren bewoond door de Samen die er hun rendieren laten grazen. Dat neemt niet weg dat het berggebied (fjällen) spectaculair en van een wondermooie schoonheid is.
Het gebied kent zeven nationale parken. Een aantal van deze vormen samen het werelderfgoed Lapponia.
Zweeds Lapland biedt uitgebreide mogelijkheden voor meerdaagse wandelingen. Voor wie dat wenst is ook een uitgebreid netwerk van berghutten beschikbaar.
Zie verder:
Norrbottensfjällen (van de provincie Norrbotten). Deze site bevat ook actuele informatie over het berggebied
overzicht met vertrektijden bootverbindingen
Sverigeturism beschrijft op haar website beschrijft op haar site Zweeds Lapland als volgt:
Sweden's most northerly provinces Västerbotten and Norrbotten consist of approximately 1/3th of the total area of Sweden and are full of contrast; sea, coast, forests and mountains are all found here. These provinces are full of opportunities for recreation and leisure in the wilderness. You have all the large parks and national reserves with unspoiled nature to explore. The provinces are also of vital interest in the development of Swedish industry and welfare because of the rich supply of natural resources.
More than half of the mountains in Sweden are in these provinces.They are made for the nature-lovers. The mountain regions in these provinces provide lots of opportunities to experience interesting flora and fauna in their natural habitats.
While the mountains attract most people and have the most dramatic sceneries, the coastal area with its extensive archipelago has stood in their shadow. Now however, many tourists are discovering the charm of the coastal towns and the archipelago.
In Sweden, most of the country's rivers and falls have been harnessed to provide electricity power. Four of the remaining rivers are still free to seek their own course from the mountains to the shore and they are the Vindel-, Pite-, Kalix- and Torne Rivers. All four provide great opportunities for fishing and rafting during the summer season.
While the natural resources in the provinces makes it a paradise for nature and wildlife-lovers, the provinces as well have a developed and varied industry. Mining dominates the industrial production but other industries are steadily growing. Especially in the communications and service sectors.
In Norrbotten bevinden zich de volgende wandelpaden:
Het netwerk van wandelpaden in de Arjeplogsfjällen (270 km)
Het netwerk van wandelpaden in de Abisko-Kebnekaisefjällen (820 km)
- zie informatie van Koninklijke Nederlandse Klim- en Bergsport Vereniging
- zie ook de aansluiting met de aan de westkant gelegen Noorse Narvikfjellen
Padjelantaleden (140 km)
- informatie van Koninklijke Nederlandse Klim- en Bergsport Vereniging
- de site van Kurt Bangert and Carola Bläsing-Bangert
Kungsleden (van Hemavan naar Abisko)
- zie de aparte pagina Kungsleden (440 km)
Nordkalottleden (van Kvikkjokk/Sulitjelma naar Kautokeino)
- zie de aparte pagina Nordkalottleden (800 km waarvan 350 km in Zweden)
Rallarvägen (61 km waarvan 47 km in Zweden)
- het pad loopt van Abisko turiststationen naar Rombaksbotn in Noorwegen
Råstofjällen (237 km)
- in de noordoostpunt van Zweden;
- het pad loopt van Kattuvuoma naar Treriksröset - het drielandenpunt
- zie de aparte pagina Råstofjällen" (237 km)
Muddusleden (64 km)
- door nationaal park Muddus
Rallarstigen (44 km)
- van Gällivare naar Porjus
In Västerbotten bevinden zich de volgende wandelpaden:
- Het netwerk van wandelpaden in Vilhelminafjällen (420 km)
- Het netwerk van wandelpaden in Vindelfjällen (520 km)
- Isälvsleden (60 km)
- het pad Kungsleden
---
De Unesco heeft een deel van Noord-Zweden aangewezen als werelderfgoed. Het omvat de vier nationale parken Muddus, Sarek, Padjelanta, and Stora Sjöfallet en de natuurreservaten Sjaunja en Stubba alsmede de gebieden Sulitelma, Tjuoltadalen, and Rapadalen.
"The Laponian area is Europe's largest continuous area of virtually untouched nature. It has steep mountain massifs and extensive mountain plains, glaciers, mires, and primeval forests, torrential waterfalls and large mountain lakes. In addition, it has a rich animal and plant life, with several endangered species.
Laponia is the cultural landscape of the Saami people and one of the last large wildernesses of Western Europe.The whole area comprises 9,400 square kilometres of great geological, ecological, and cultural value with magnificent scenery."(bron: Riksantikvarieämbetet)
Sites:
Nationale parken
The oldest and largest national parks in Sweden are to be found in Norrbotten. Eight of Sweden's twenty-six national parks are located here. With the exception of Muddus and the Haparanda archipelago, the national parks in the province are in the mountain region. Together they cover over 6000 km², which means that the national parks in Norrbotten count for 95 % of the area dedicated to national parks in Sweden. The parks in the mountain region comprise 5500 km². Swedish laws protect their natural environment. parken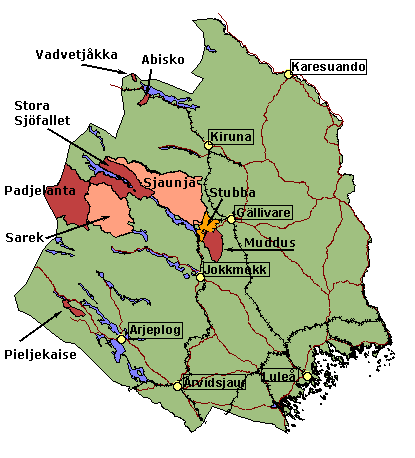 Visit the Parks
The rapidly changing weather and the steep topography make visiting the mountain areas a challenge. The national parks are large wilderness areas as well, and haven't been adapted much for visitors.
People without much experience in the mountains can, nonetheless, visit parts of Abisko and Stora Sjöfallet. Throughout these national parks there are actually roads and even small tourist localities with mountain hotels inside the parks. These tourist facilities are good points of departure for day outings in the surrounding national park area. Marked hiking trails such as Kungsleden make hiking less difficult in Abisko and Stora Sjöfallet.
Likewise Muddus can be reached easily for day excursions from connecting roads at the border of the park. In Muddus, if one wants to cover all the things worth seeing, it would be good to plan a hike of several days duration along the trail that has cabins in four different locations where one can spend the night.
The smaller mountains parks of Vadvetjåkka and Pieljekaise are farther away from the nearest road, and it will take at least two days to visit them.
The national park complex of Padjelanta, Sarek and the western part of Stora Sjöfallet is more demanding for the visitors than the other parks. Sarek and the adjacent part of Stora Sjöfallet is a difficult area. It lacks trails and presents an almost impassable terrain, being subject to frequent rains.
This national park area should only be visited by people who are well-experienced mountain hikers.
The terrain in Padjelanta is not as extreme as in Sarek but it is rainy even there. A hiking trail with cabins to spend the night makes it a more appropriate area for less experienced mountain hikers.
(Bron: Naturvårdsverkets Sveriges Nationalparker)
---
Abisko
The Abisko National Park has an abundance of plant species, a number of them quite rare. Abisko is the national park that receives most visitors in the province. Undoubtedly the deep canyon in Abisko is the biggest attraction.
---
Björnlandet
Björnlandet ligt in de provincie Västerbotten.
Björnlandet is in Åsele Sami country - a magnificent wilderness and one of the most valuable virgin forests in the country. Slopes and sheer cliffs break up the rolling mountain terrain. The large amount of free boulders and piles of boulders is striking to walkers. Traces of early forest fires can also be found here.
---
Muddus / Muttos
Muddus / Muttos National Park is one of the country's most excellent virgin forests. Many older pines show scars of forest fires that have affected the landscape. There are also marsh areas here that have an abundance of birds.
---
Padjelanta / Badjelánnda
The Padjelanta / Badjelánnda National Park is a low mountain area with some of the most interesting flowering vegetation of the whole mountain chain. The billowing high plateau is rich in plant species.
---
Pieljekaise
The Pieljekaise National Park is most known for its lush meadow birch forests
---
Sarek
Sarek is a high alpine park with arctic characteristics. Large areas are devoid of vegetation, consisting of boulders, snowfields and glaciers. No other Swedish area has so many majestic massifs and deep eroded valleys, so many peaked mountains and large glaciers.
Sarek is one of Sweden?s most inaccessible national parks for anyone who cannot hike or ski in on their own.
There are no roads leading up to the national park.
---
Stora Sjöfallet / Stuor Muorkke
The Stora Sjöfallet / Stuor Muorkke National Park is a high alpine park with arctic characteristics. Large areas are devoid of vegetation, consisting of boulders, snowfields and glaciers. In the park there is a primeval pine forest. However the park has been damaged by hydroelectric power reservoirs.
Naturvårdsverket: Stora Sjöfallet

---
Vadvetjåkka
Vadvetjåkka National Park north of the Torneträsk lake has a varied flora in its meadows, forest and marsh areas.
---
Agemeen:
De toeristenpagina's van de gemeentelijke sites Norrbotten:
Gemeentes in de provincie Västerbotten

Het weer