start > wandelsite > Lappland (Zweden)
Lappland (Zweden)
Zweeds Lapland (Lappland, Lapponia) wordt wel een de laatste wildernis van Europa genoemd. Feitelijk is het een cultuurlandschap, al duizenden jaren bewoond door de Samen die er hun rendieren laten grazen. Dat neemt niet weg dat het berggebied (fjällen) spectaculair en van een wondermooie schoonheid is.
Het gebied kent zeven nationale parken. Een aantal van deze vormen samen het werelderfgoed Lapponia.
Zweeds Lapland biedt uitgebreide mogelijkheden voor meerdaagse wandelingen. Voor wie dat wenst is ook een uitgebreid netwerk van berghutten beschikbaar.
Zie verder: Norrbottensfjällen (van de provincie Norrbotten). Deze site bevat ook actuele informatie over het berggebied overzicht met vertrektijden bootverbindingen
Sverigeturism beschrijft op haar website beschrijft op haar site Zweeds Lapland als volgt: Sweden's most northerly provinces Västerbotten and Norrbotten consist of approximately 1/3th of the total area of Sweden and are full of contrast; sea, coast, forests and mountains are all found here. These provinces are full of opportunities for recreation and leisure in the wilderness. You have all the large parks and national reserves with unspoiled nature to explore. The provinces are also of vital interest in the development of Swedish industry and welfare because of the rich supply of natural resources.
More than half of the mountains in Sweden are in these provinces.They are made for the nature-lovers. The mountain regions in these provinces provide lots of opportunities to experience interesting flora and fauna in their natural habitats.
While the mountains attract most people and have the most dramatic sceneries, the coastal area with its extensive archipelago has stood in their shadow. Now however, many tourists are discovering the charm of the coastal towns and the archipelago.
In Sweden, most of the country's rivers and falls have been harnessed to provide electricity power. Four of the remaining rivers are still free to seek their own course from the mountains to the shore and they are the Vindel-, Pite-, Kalix- and Torne Rivers. All four provide great opportunities for fishing and rafting during the summer season. While the natural resources in the provinces makes it a paradise for nature and wildlife-lovers, the provinces as well have a developed and varied industry. Mining dominates the industrial production but other industries are steadily growing. Especially in the communications and service sectors.
Norrbotten kent een uitgebreide netwerk van wandelpaden. Zie hieronder en de tab nationael parken voor aanvullende informatie. (zoals Muddusleden - 44km- door nationaal park Muddus)
Enkele netwerken: Het netwerk van wandelpaden in de Arjeplogsfjällen (270 km)
Het netwerk van wandelpaden in de Abisko-Kebnekaisefjällen (820 km)
In Västerbotten bevinden zich de volgende wandelpaden: - Het netwerk van wandelpaden in Vilhelminafjällen (420 km) - Het netwerk van wandelpaden in Vindelfjällen (520 km) - Isälvsleden (60 km)
Råstofjällen
Råstofjällen (237 km) - in de noordoostpunt van Zweden; - het pad loopt van Treriksröset - het drielandenpunt naar Kattuvuoma, of omgekeerd Råstofjällen is het gebied in het meest Noord-Westelijke hoek van Zweden. Aan de Noordkant wordt het begrensd door de grensrivier met Finland, aan de Westkant door de grens met Noorwegen, en aan de Zuidkant door het meer Törneträsk en de rivier Torneälven. Aan de oostkant vormt de weg van Karesuando naar Soppero (Kiruna) de begrenzing.
Het is een weinig bezocht gebied dat wordt gebruikt door Esrange, het European Space Range. Esrange is een internationaal centrum voor ruimte operaties d.m.v. satelieten, raketten, ballonnen etc. Bij lanceringen vallen (resten van) deze ruimtevaartuigen terug in het gebied, dat op de kaart staat aangegeven als "Raketskjutfält" of "Skytefelt for raketter". Het gebied is vrij toegankelijk behalve als er lanceringen zijn gepland. Op de website van Esrange of bij het Toeristenbureau in Kiruna is het lanceerprogramma verkrijgbaar. Tijdens lanceringen word je geacht te schuilen in de schuilruimtes die hier en daar zijn neergezet.
Er zijn vrijwel geen voorzieningen in het gebied. Wel is er een enkele gemarkeerde route uitgezet (die met name als skiroute in de winterperiode gebruikt wordt).
Aan de Noordzijde is Råstofjällen bereikbaar
via Kilpisjärvi (Treriksröset) waarbij je het wandelpad naar Pältsastugan kunt gebruiken (onderdeel van de Nordkalotroute). Vanaf hier kun je het gemarkeerde wandelpad Råstofjällen volgen.
via de brug over de grensrivier bij Peera, een berghotel langs de E8. Aan de Zweedse kant ligt de nederzetting Keinovuopio. Vanaf hier start een karrenspoor (ATV-pad) naar Pulsujärvi (tussen Vutnusjärvi en Rusuvárri ontbreekt het pad vrijwel en is het terrein door kniehoge dwergberken moeizaam beloopbaar, ervaring 2002). Het pad kruist de de rivier Lainioälven. Ik weet niet of de rivier goed doorwaadbaar is (ik heb het pad 8 km voor de rivier verlaten en ben vandaar oostwaarts gelopen).
Kilpisjärvi en Peera zijn te bereiken met het openbaar vervoer: Route1: Kiruna-Karesuando-hotel-1 km lopen naar Finland, bij benzinestation bus naar Kilpisjärvi; Route 2: dagelijkse busdienst van Rovaniemi naar Kilpisjärvi).
Aan de zuidzijde is het gebied zomers niet toegankelijk zonder boot of helikopter. De Torneälven vormt een onneembare barriëre. Vermoedelijk is vervoer te regelen bij Kiruna flyg. Je kunt ook vanuit Björkliden nabij Abisko om het meer Torneträsk lopen en via het gebergte aan de noordkant naar Kattuvuoma of naar Vuoskojaure lopen. Vanaf hier kun je het wandelpad naar Kilpisjärvi volgen. Dit is de variant die ik in 2002 heb gelopen. Björkliden is dagelijks met de trein vanuit Kiruna of Narvik bereikbaar.
Aan de Oostzijde is het gebied bereikbaar via een weg ten Noorden van Övre Soppero. Deze weg gaat naar Järamä en Pulsujärvi, nederzettingen van de Samen. Je kunt ook starten vanuit Maunu, een gehucht iets ten westen van Karesuando. Hier begint een karrenspoor, nou ja, een door atv's of quad's ingeslepen pad.
Het wandelpad Råstofjällen loopt van Kattuvuoma (even ten Noorden van het meer Törneträsk via Råstojaure (een meer beroemd om zijn vis met een viskamp) en de Pältsastugan (aansluiting op Nordkalottleden) naar Treriksröset (het drielandenpunt). Daar waar de Nordkalottleden door het Dividal in Noorwegen voert, neemt het pad Råstofjällen een oostelijker route aan de Zweedse kant van de grens. Er zijn onderweg geen voorzieningen (m.u.v. Pältsastuga aan het eind van de route), loopt over relatief licht terrein en kent weinig bezoekers. In 2002 heb ik het pad gelopen van Kilpisjärvi naar Vuoskojaure en vandaar cross country (d.w.z. padloos) naar Björkliden. Dit laatste stuk is wat zwaarder dan het uitgezette pad maar goed te doen.
Verder kun je ook cross country door Råstofjällen trekken. In 2005 ben ik vanaf de brug over de grensrivier bij Peera naar Karesuando (Maunu) gelopen. Aan begin en einde van de tocht kon ik een karrenspoor volgen, de rest was cross country. De vegetatie stond hierbij danig in de weg, hetgeen resulteerde in een zeer zware trektocht. De struiken van dwergberken kunnen dicht op elkaar staan en tot kniehoogte reiken. Bij beekjes belemmeren stroken manshoge wilgenstruiken (Salix lapponum en Salix glauca) de doorgang.
Nordkalottleden
Nordkalottleden (van Kvikkjokk/Sulitjelma naar Kautokeino) - zie de aparte pagina Nordkalottleden (800 km waarvan 350 km in Zweden)
Kungsleden
Kungsleden (van Hemavan naar Abisko) - zie de aparte pagina Kungsleden (440 km)
Padjelantaleden
De STF beschrijft het pad als volgt "Experience the rounded mountains, heaths and large lakes that are often described as giving the greeny-blue landscape a contemplative atmosphere. This is where the 160-kilometre-long Padjelantaleden trail runs, a trail that will suit walkers of all levels, even the less experienced. The trail through Padjelanta National Park begins and ends in Kvikkjokk and Ritsem, which are located outside the park itself."
Zie verder de website van de STF Padjelantaleden
De website van Distant North geeft meer informatie me o.a. kaartje Distant North
Eigen wandelroutes Lappland (Zweden)
Sveg-Valadalen 1986
115 + 90 + 135 km
Hellagsfjället/Blahammarfjället/Brunnerfjällen
Ga naar
Kaart
Hemavan-Graddis -- Sulitjelma-Kvikkjokk 1988
175 + 110 km
N. Storfajallet - Vindelfjallen (np) - Ammarfjället
Ga naar
Kaart
Riksgränsen-Ritsem-Sulitjelma-Kvikkjokk 1990
100 + 100 + 90 km
Padjelanta (np)
Ga naar
Kaart
Storlien-Snasa-Gaddede-Borgafjal 1992
165 + 105 + 95 km
Skjekarfjället - Gressamoen (np) -Borgafjallen
Ga naar
Kaart
Kilpisjärvi - Björkliden -- Abisko - Abisko 2002
200 + 100 km
Gemeente Kiruna: Råstofjällen, Abiskofjällen
Ga naar
Kaart
Ga naar
Fotoalbum
Gäddede - Klimpfjäll 2004
100 km
Ga naar
Kaart
Abisko - Ritsem 2017
110 km
Nationaal Parken Abisko en Sjöfjallet
Deeltraject 2 van de Sentimental Journey 2017
Nordkalottleden en eigen route
(deels) herhaling deel van de trektochten 1989 en 1990
Bus Ritsem - Gälllivare / trein Gälllivare - Björkliden / bus Björkliden- Karesuando / bus Karesuvanto - Kilpisjärvi
Ga naar
Kaart
Ga naar
Fotoalbum
Kilpisjärvi - Kilpisjärvi 2017
55 km
Drielandenpunt
Deeltraject 3 van Sentimental Jurney 2017
- deels Nordkalottleden
- klein stukje trektochten 1995 en 2002
Bus Kilpisjärvi - Enontekio
Ga naar
Kaart
Ga naar
Fotoalbum
De Unesco heeft een deel van Noord-Zweden aangewezen als werelderfgoed. Het omvat de vier nationale parken Muddus, Sarek, Padjelanta, and Stora Sjöfallet en de natuurreservaten Sjaunja en Stubba alsmede de gebieden Sulitelma, Tjuoltadalen, and Rapadalen.
"The Laponian area is Europe's largest continuous area of virtually untouched nature. It has steep mountain massifs and extensive mountain plains, glaciers, mires, and primeval forests, torrential waterfalls and large mountain lakes. In addition, it has a rich animal and plant life, with several endangered species. Laponia is the cultural landscape of the Saami people and one of the last large wildernesses of Western Europe.The whole area comprises 9,400 square kilometres of great geological, ecological, and cultural value with magnificent scenery."(bron: Riksantikvarieämbetet)
Sites:
Nationale parken The oldest and largest national parks in Sweden are to be found in Norrbotten. Eight of Sweden's twenty-six national parks are located here. With the exception of Muddus and the Haparanda archipelago, the national parks in the province are in the mountain region. Together they cover over 6000 km², which means that the national parks in Norrbotten count for 95 % of the area dedicated to national parks in Sweden. The parks in the mountain region comprise 5500 km². Swedish laws protect their natural environment. parken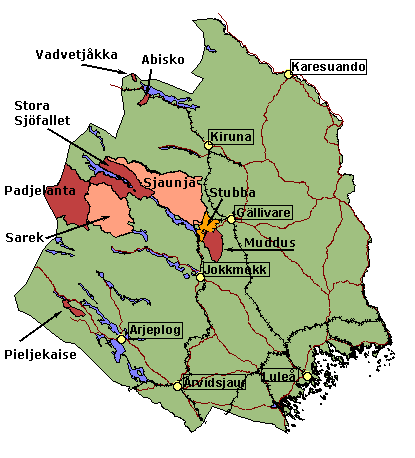 Visit the Parks
The rapidly changing weather and the steep topography make visiting the mountain areas a challenge. The national parks are large wilderness areas as well, and haven't been adapted much for visitors.
People without much experience in the mountains can, nonetheless, visit parts of Abisko and Stora Sjöfallet. Throughout these national parks there are actually roads and even small tourist localities with mountain hotels inside the parks. These tourist facilities are good points of departure for day outings in the surrounding national park area. Marked hiking trails such as Kungsleden make hiking less difficult in Abisko and Stora Sjöfallet.
Likewise Muddus can be reached easily for day excursions from connecting roads at the border of the park. In Muddus, if one wants to cover all the things worth seeing, it would be good to plan a hike of several days duration along the trail that has cabins in four different locations where one can spend the night.
The smaller mountains parks of Vadvetjåkka and Pieljekaise are farther away from the nearest road, and it will take at least two days to visit them. The national park complex of Padjelanta, Sarek and the western part of Stora Sjöfallet is more demanding for the visitors than the other parks. Sarek and the adjacent part of Stora Sjöfallet is a difficult area. It lacks trails and presents an almost impassable terrain, being subject to frequent rains. This national park area should only be visited by people who are well-experienced mountain hikers. The terrain in Padjelanta is not as extreme as in Sarek but it is rainy even there. A hiking trail with cabins to spend the night makes it a more appropriate area for less experienced mountain hikers. (Bron: Naturvårdsverkets Sveriges Nationalparker)
Abisko
Björnlandet
Muddus / Muttos
Padjelanta / Badjelánnda
Pieljekaise
Sarek
Stora Sjöfallet / Stuor Muorkke
Vadvetjåkka
Agemeen:
De toeristenpagina's van de gemeentelijke sites Norrbotten:
Gemeentes in de provincie Västerbotten
Het weer